Hourly Kayak & Paddle Board Rentals – Public & Private Tours & Events
Agua Verde Paddle Club - Kayaks, Tours and Lessons since 1997
Agua Verde Paddle Club is a great way to #PaddleSeattle
Hoping to rediscover your city in a new light, or explore Seattle's lakes and bays for the first time? Look no further! At the Agua Verde Paddle Club, we offer many different options to help you fall in love with our local waterways. Whether you're a seasoned watersports veteran, or brand new to paddling, we'll make sure you have everything you need to set out on your aquatic adventures. We offer hourly kayak & paddleboard rentals, various levels of paddling lessons, and even tours through your favorite parts of the city.

Explore Lake Union to see the famous Gas works park, quaint houseboats, and sweeping views of the city skyline, or paddle out to Lake Washington to spot the local flora and fauna while exploring the Union Bay nature preserves or winding through the hidden coves and water trails of the Arboretum.

Seattle's waterways are waiting for you, so come on down to the Agua Verde Paddle Club today!

We overlook Portage Bay the lower level at the water's edge. To get to the Paddle Club from Boat Street, take the stairs by the park to the west (or on the right side) of the building. Find information on parking and more below.

Limited Free Parking – W 24 Lot, entry across street from Agua Verde this lot belongs to the University of Washington but is ours to use after 4 pm on weekdays and all times during weekends and holidays.


Street Parking – Along Boat St, up to 2 hours. Free on Sundays.


Pay Lots – Boat Street Marina Lot, up to 4 hours. Park here anytime. often best at busy times You can pay to park here for $2/hr for up to 4 hours.


1200 NE Boat Street Lot – On the corner of Pacific and Boat Street, one block west of Agua Verde across the street from the bike shop


1401 NE Boat Street Lot – Entrance is one block east of 15th Ave and Boat Street. Pay at the kiosk at entrance. THIS LOT IS CLOSEST TO THE PADDLE CLUB BEST FOR ALL ACCESS WITH TWO PARKING SPOTS.


By Bike – Use the Burke-Gilman trail. Go down Brooklyn Ave until you hit the waterfront. There is plenty of bike parking in front of Agua Verde.


Public Dock – The public dock for hand powered craft is located at the east end of Boat Street Marina next to the houseboats, opposite from the paddle club with load and unload zone. This is where to launch your own kayak to paddle with others renting.
Focus on Wildlife: Painted Turtle
One of the joys of paddling around Seattle's inland waterways is the chance to see Painted Turtles sunning themselves on logs in the water.

These prehistoric wonders of nature aren't just beautiful but they are survivors; despite the development here and everywhere over the last decades, these reptiles seem to be doing just fine. Find out more about what makes these beauties unique...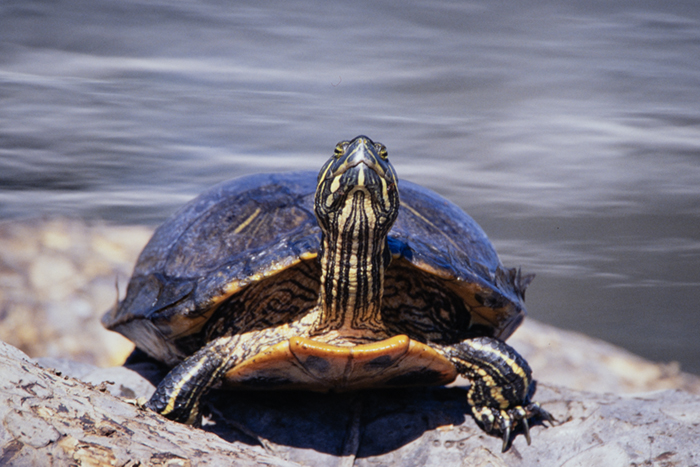 Agua Verde Paddle Club Rental Conditions
There is a one-hour minimum for rentals.
After the first hour, our rental rates are pro-rated in 10-minute increments.
Kayak rentals include all necessary equipment. Due to insurance requirements, we do not rent equipment to individuals not renting boats or boards.
Paddlers must be 18 years of age or older to rent a kayak or paddle board. Children 17 and under must paddle in the front of a double kayak with an adult in the back.
Sorry, no animals on equipment, left at the shop, or on the premises.
No alcohol allowed on our docks or equipment.
Renters are responsible for full replacement value of any equipment damaged or lost.
NO takeaway or overnight rentals. Our FAQ page has additional information.
The Paddle Club may close due to weather or business conditions.
Our last rental departs 1 hour and 30 minutes prior to closing. Closing hours vary throughout the season. Visit our Hours page or call the Paddle Club for current hours of operation.
Kayaks must be launched from and returned to our docks.
One launch, one land per rental.