As you take your first few strokes off of Agua Verde's dock and get your bearings, the first thing you'll likely notice is the panoramic view to the west of a motley lineup of houseboats and floating homes across the way on the other side of Portage Bay. What could be more "Seattle" than bobbing in a kayak and peering in at these "livaboards" along the city's thriving inland freshwater byways?
Scanning across this varied assortment of houses afloat in vastly different states of repair makes it apparent that no central design code dictates how these kindred homes must function or look. For starters, some are true "houseboats" meaning they have some sort of means of propulsion to get from point A to B (although in actuality, they rarely if ever, move), while others are floating homes that would have to be untethered and towed to another site in the unlikely event they needed to change surroundings.
Most of them are one-story tall, although every third or fourth along the line tends to have some sort of second floor or upper loft space. Just about all the colors of the Northwest rainbow — medium grays, paper bag browns, dusky blues, olive greens — are represented in the exterior paint and siding choices of individual homeowners, but an occasional mauve or royal blue shade does brighten up the mix.
A few have roof decks, more have boats tied up in front or along the side, and most have a kayak or standup paddle board (SUP) somewhere visible on a dock or lashed to the exterior and ready for a quick launch at any time.
When the weather is nice, residents may be lounging and/or grilling some salmon on their docks. And when the weather isn't nice outside, there couldn't be a better place to read a book than in a houseboat window seat bobbing on the calm inland waters of Portage Bay.
In true Seattle fashion as a city of comings and goings, this Portage Bay houseboat panorama is framed by highways on each side, with the commencement of State Route 520 to the south and the 182-foot high Interstate 5 bridge dwarfing and crossing over the quaint little University Bridge to the north. The 50 or so floating homes and houseboats between these arterial bookends are a study in contrast indeed.
That said, there are a few rules that bind together the otherwise beat-to-their-own-drum houseboat and floating home residents. One is that they cannot release sewage right into the water below. (Either the marina or dock they are affiliated with must discharge it into the terrestrial sewer system or it can be evacuated into a discharge boat at regular intervals.)
Another of the rules is that floating homes must keep the ancient old growth timbers which buoy them from below underneath no matter what changes take place up top. These huge logs have been floating many of the homes here since the 1930s and as such have become integral ecosystem elements that signal to spawning salmon that they are headed in the right direction toward their upstream natal waters. As a result, even the newest floating homes up top are often buoyed from below by the most decrepit looking waterlogged timbers you've ever seen.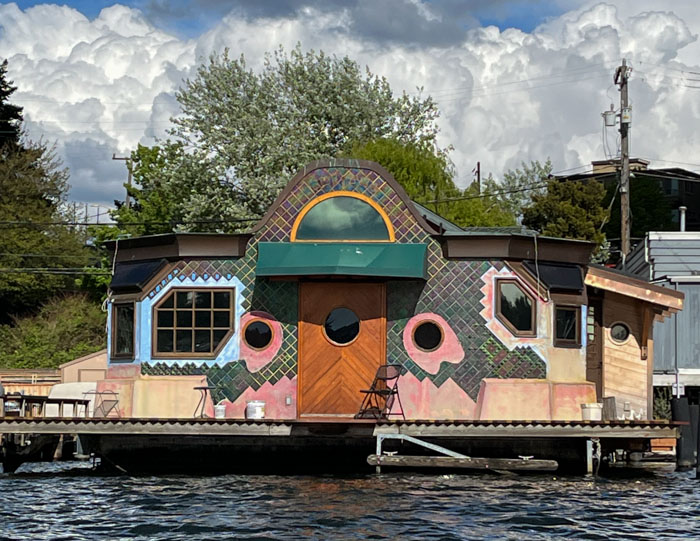 Of course, this small community of floating homes and houseboats here across from Agua Verde comprises only a small part of the larger community of livaboards around Seattle. The majority of these domiciles are scattered across different marina developments along Lake Union, including the newest and reportedly last ever floating home community ("Roanoke Reef") that the city will ever permit, where some of the swankiest floating homes seem ripped from the pages of Architectural Digest and sell for multi-million dollar pricetags, at the foot of Roanoke Street.
Of course, the most famous floating home of all, the architectural focal point of the 1993 Nora Ephron rom-com Sleepless in Seattle starring Tom Hanks, sits across Lake Union, just a few dozen paddle strokes east of Roanoke Reef. Built in 1978, this 2,200 square foot, 4-bedroom, 2-bath floating home — one of the largest in the city — is located at the end of a story-book dock with a flower-lined entry off of Westlake Avenue North in Lake Union. But the only way to see it up close and personal without an invite aboard from the owner is from a kayak (or paddleboard).
All told, only 500 floating homes and 250 residential houseboats are allowed across the city, as determined by a 2014 law enacted to ensure responsible use and ecologically sensitive development along Seattle's 147 miles of freshwater shoreline. These limits are good news for the wildlife and aquatic ecosystems of the region, but also for any humans that happen to already own an existing floating home or houseboat, given the skyrocketing real estate values for such properties in recent years as well-heeled tech workers flock to the city eager to live their best Seattle lifestyles — and what could be more Seattle than living aboard?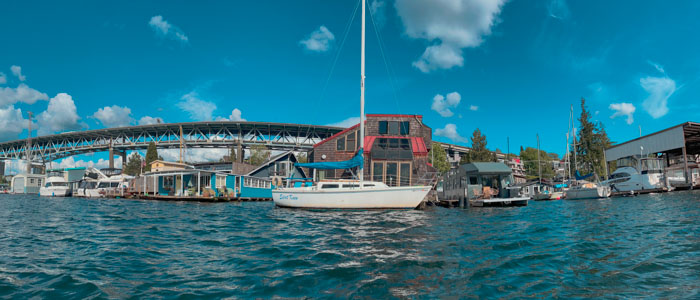 While living on a houseboat or floating home on one of Seattle's inland waterways might be quite the privilege today, it hasn't always been this way. Initially built to house the workers of logging camps, the first houseboats were crude, one-story buildings on rafts created for the purpose of following timber downriver from where it was harvested to where it would be milled.
But by the time the 19th century turned to the 20th, makeshift houseboats were everywhere around Seattle itself. Indeed, the destitute throngs crowding into this frontier town needed somewhere to live, and cobbling together some boards onto a raft was one way to get around squatting where you didn't belong on land.
Of course, soon enough the appeal of living on the water began to draw more than just the poverty-stricken to the houseboat lifestyle. Indeed, by the 1920s, houseboats built as summer homes for the wealthy began to ring Lake Washington, while fishermen, boatmakers and bootleggers moved their families into houseboats around  Lake Union, the heart of Seattle's bustling marine trade where these workers made their livings.
But just when living in a houseboat was starting to get, dare we say, fashionable, the Great Depression struck. Once again, Seattle's destitute collected old cedar logs and debris floating in the region's lakes and made "temporary" floating quarters to last out the depression. By the late 1930s there were 2,000+ houseboats in Seattle; most of the older ones remaining today date back to this period.
Following the Depression, the poor moved on and Bohemians and students moved in. Nevertheless the lawless nature of these communities didn't sit well with everyone. By the 1950s, local officials preaching "urban renewal" decided to clean up houseboat communities — "the cesspool of Seattle" — and replace them with over-the-water apartments and businesses, some even built right over existing houseboat docks.
The campaign to get rid of houseboats was partially successful; within a decade, Seattle's livaboard community was slashed by 50% (down to ~1,000 houseboats and floating homes total). The Floating Homes Association (FHA) formed in 1962 to fight back against these efforts to obliterate the community and lifestyle that has been part of Seattle since its early days.
While FHA has been successful in protecting the livaboard lifestyle, ecological mandates forced the further reduction of the number of these types of residences overall. Whether the 750 remaining Seattle livaboards can withstand future rounds of reclamation and ecological restoration along the city's increasingly compromised shoreline is anybody's guess, so get out there and check them out while you can.
Of course, the best way to see Seattle's houseboats and floating homes is by taking a guided tour via kayak with Agua Verde Paddle Club. You will launch in a state-of-the-art kayak from Agua Verde's dock right on Portage Bay, directly across from some of Seattle's landmark houseboats. A few paddle strokes further and you'll be in Lake Union where you can float by some of the swankiest floating homes in Seattle as seaplanes take off overhead and sailboats skitter by. Circle back around and get a view of Gas Works Park from the water that most Seattleites have never even seen before making your way back under the University Bridge and to the welcoming docks of Agua Verde Paddle Club. You won't regret it.