Take your group out for an adventure!

We offer Limited Group Reservations. We can accommodate groups of 12 to 20 for a day of corporate team building, wedding parties, an outing with friends and family, you name it! * Sorry at this time we do not make group Reservations for paddle boards.
How To Organize A Group Reservation
1. Pick a few possible dates
Reservations are a minimum of 12 humans and 2 hours in length.
Mondays Thursday & Fridays
No weekends or holidays reservations in June, July or August.
We can only schedule one group reservation per day, so organize early!
Please remember when taking minors there must be one adult for each. Kids 17 and under can not be in singles or paddle boards, they must be in the front of a double with a parent or Guardian in the back.
2. Read and fill out the Group Reservation Request .
Our Group Reservation Request Form will guide you thru requesting equipment, you can choose to be guided by our well trained staff, our go on your own with your group. Use the formula to get your cost of your group event. minis group reservation fee.
A Group Reservation fee is Charged to secure staff, date, time and equipment. Group reservation fee sliding scale based on equipment requested. based on a minimum of 6 doubles, Equipment rental and guide fees are separate.
Our Group Reservation Request Form has all of our policies in fine print.
Click Here To View Reservation Form
3. Reservation details and deposit confirmation
We will email you after you've submitted a group reservation request to confirm details.
We are only able to take requests via the
online registration form
at this time. If you any questions or need guidance on making a reservation please email
tours@aguaverde.com
.
Once you've paid a deposit on your reservation, your date is secured.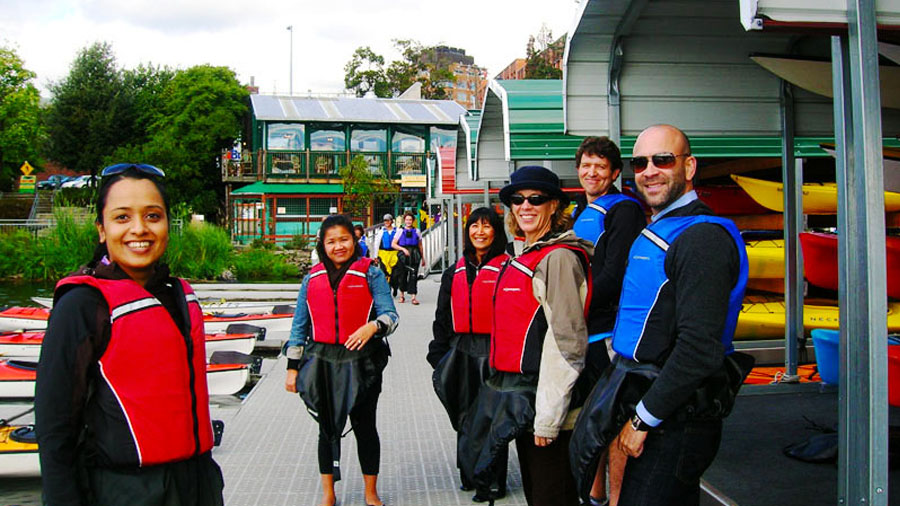 Reservation Policies
We make limited reservations for groups of 12 to 20.
A minimum of 2 hours charged per reservations.
A advance deposit payment of 50% of the total tax-inclusive reservation cost.
All groups will be charged a reservation fee to secure date time and equipment.
The deposit payment is non-refundable unless AVPC cancels the event, In the event of dangerous weather conditions.
An 20% gratuity will be applied to the final payment.
The group will pay as one, on one credit card, check or cash amount.
The reservation date is secured only after the deposit has been paid.
The event coordinator must be on site on the day of the reservation.
All participants must sign the insurance waiver at time of event.
All participants must be 18 years of age to sign insurance waiver.
Alcohol consumption or bringing Alcohol along is prohibited while in the possession of rental equipment. Anyone who does not comply will be removed from participation.
The reservation fee will be forfeited if your group is a no show or cancels.